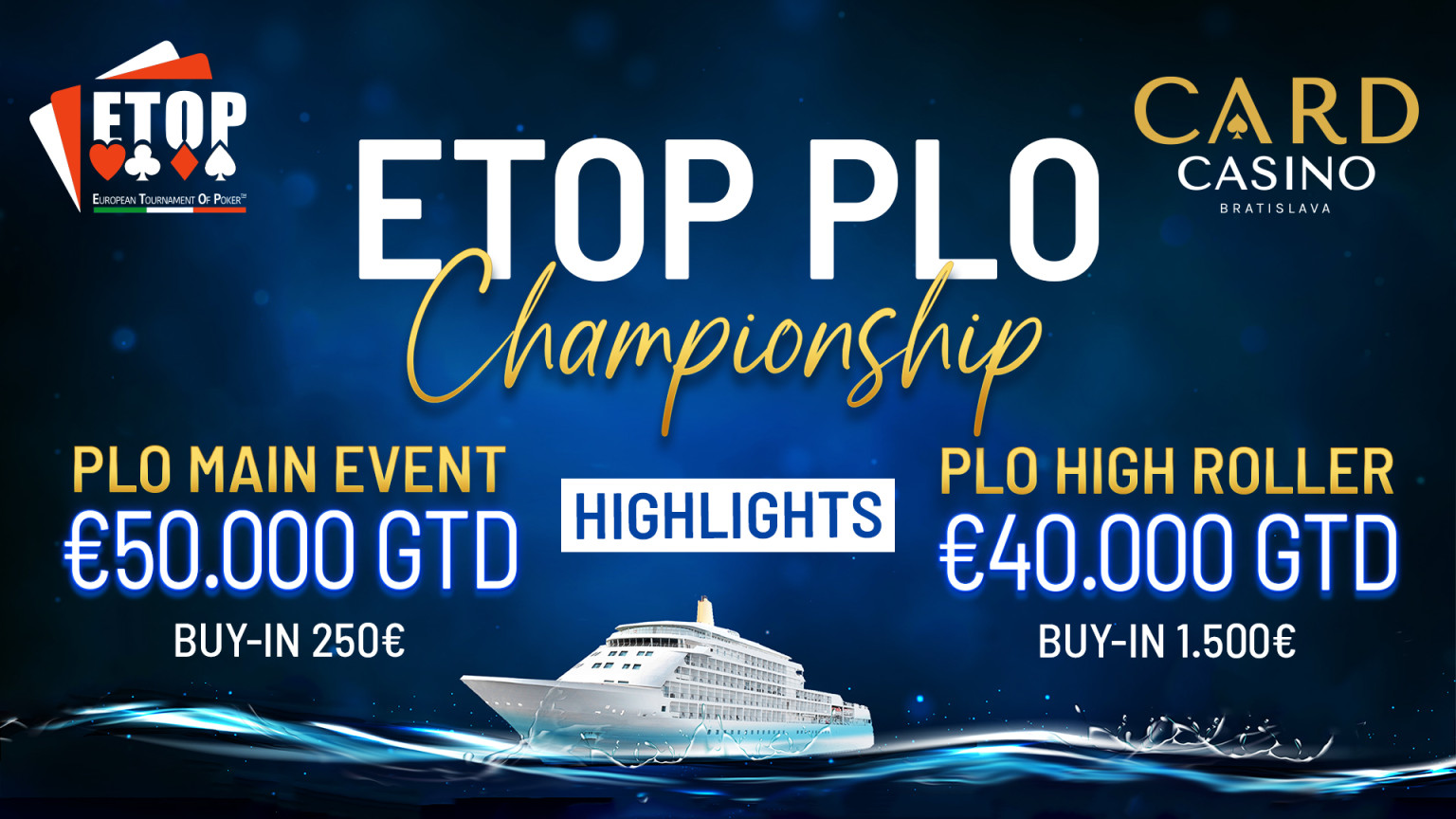 ETOP €100,000 GTD launches. You can look forward to the Main Event and High Roller
The four-round omaha festival ETOP is back. Card Casino Bratislava will experience an attractive dose of poker during this week (October 4-9), marked by the second most popular variant of this card game.
The ETOP Omaha Festival guarantee is €100,000, and players can look forward to the Main Event, High Roller, as well as other smaller side events.
The action continues with Wednesday's ETOP PLO MYSTERY BOUNTY with a buy-in of €150 and a €5,000 guarantee. Start time is scheduled for 19:00.
An hour later, players can punch their ticket to the Main Event via the Phase Qualifier, which has its own set of rules. The buy-in is €60 (€250 Main Event ticket). The last 20% of players who remain in the game carry their stack into the Main Event.
On Thursday, October 6, the satellites for the Highroller will be played first (15:00, buy-in €100) and the Highroller itself will start at 18:00 with a buy-in of €1,500 and a €40,000 GTD.
The €250 buy-in, €50,000 GTD Main Event will be played on the same day and at the same time (18:00). The following days, the opening flights will continue, as well as the opportunity to jump in via PHASE. The Main Event will have 5 flights on the schedule, with the FINAL DAY starting at 16:00 on Sunday.
In addition, players can also look forward to the ETOP SVITEN SPECIAL - October 7 at 20:00 with a buy-in of €120, or the ETOP PLO HI/LO - October 8 at 18:00 with a buy-in of €100 and a €5,000 GTD.
The last day of play at the ETOP Omaha Festival is scheduled for Sunday, October 9. In addition to the Final Day, the final ETOP 5 Card PLO tournament will start at 18:00.
All information not only about the ETOP Omaha Festival can be found on our website www.cardcasino.sk, as well as on the casino's social media channels.