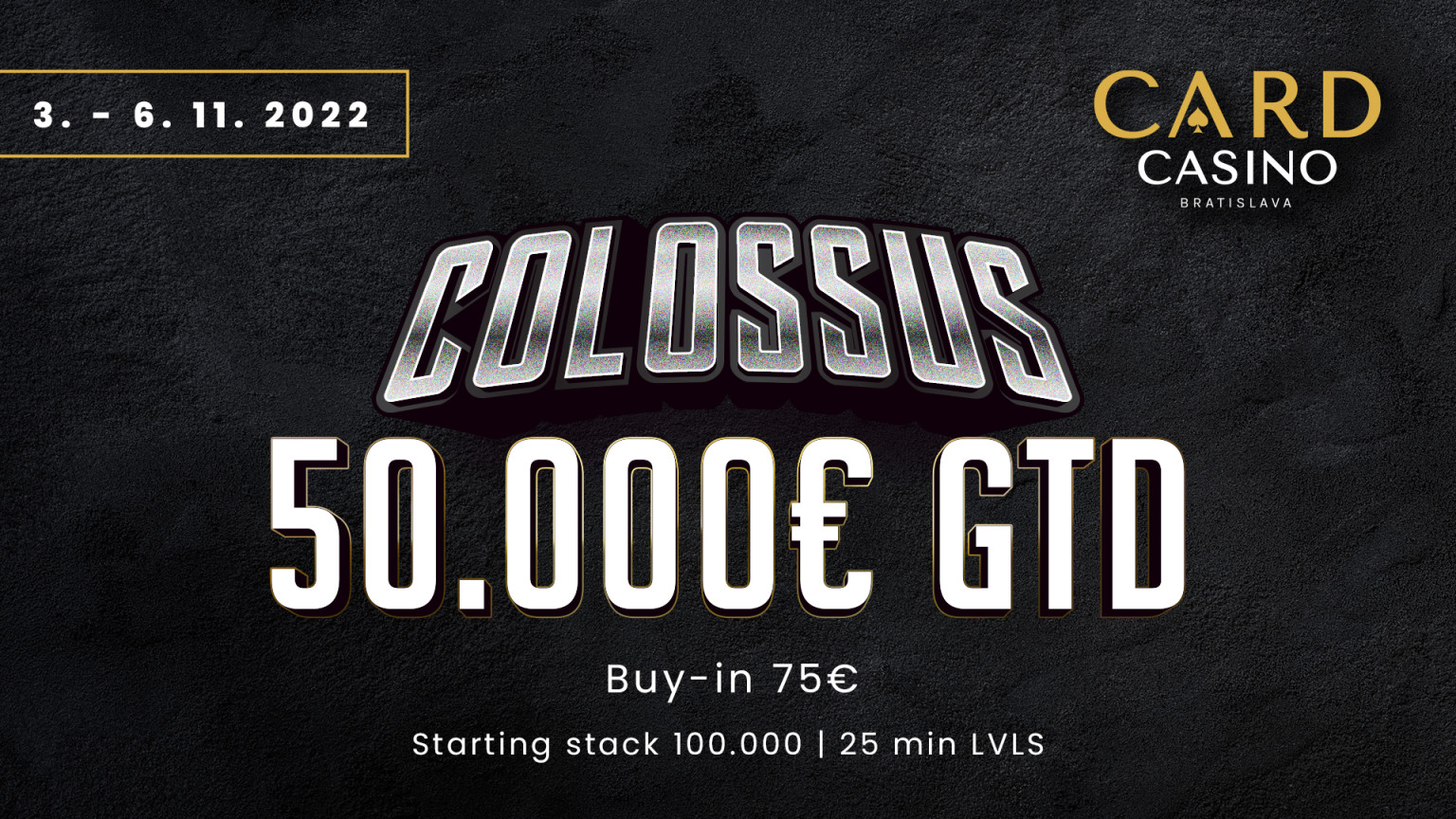 Get ready for Colossus with €50,000 GTD and the battle for the WPT in Las Vegas
The month of November will also be a month of great poker action at Card Casino Bratislava. It will kick off on Thursday, November 3rd with the €50,000 GTD COLOSSUS tournament.
The tournament will be divided into four opening flights, which are scheduled for Thursday, Friday and Saturday. Buy-in to the tournament is just €75, guaranteeing a nice €50,000 GTD.
Play will start at 19:00 on Thursday and Friday with a starting stack of 100,000 chips, while the buy-in for the COLOSSUS tournament is just €75. The game will be played in 25-minute levels, whoever is in the game after the 15th level will advance to the Final Day.
On Saturday there are two flights on the schedule. DAY 1C starts at 14:00 and the turbo flight at 21:00. On Sunday at 13:00 is the culmination, i.e. the FINAL DAY.
On Thursday, in addition to the COLOSSUS tournament, there will be another battle for the WPT World Championship (12-20 December 2022). This is Step 1, where the buy-in is €110. Five players will receive a ticket to the next stage - Step 2.
Step 2 with a buy-in of €550 will be played the following day, Friday, November 4 at 20:00. This will also reveal the five qualifiers who will advance to the final Step 3.
Step 3, where the buy-in is set at €2,750, will be played on November 5, with the winner receiving a ticket to the Main Event of the gigantic WPT World Championship tournament, as well as a trip to Vegas, and thus a total package worth €13,000!
All information not only about this tournament, but also about Card Casino Bratislava in general can be found at www.cardcasino.sk, as well as on our social networks.