Hot seats continue to bring wins. Jackpots are hitting every day!
If you like cool prizes, put your hand up! And how to get them as easily as possible? Well, by visiting Card Casino Bratislava. Also during October, visitors to the biggest Slovak casino can look forward to winning thanks to the hot "Burning" chairs they will be sitting on.
Also in the tenth month of the year, everyone will win. That means slot players, live game enthusiasts and progressive players alike.
All thanks to the ongoing Burning Chair campaign. Every day, players can look forward to generous jackpots as well as a cash-packed happy hour.
Slot Jackpots will be active every game day. The main Jackpot CARD, followed by the smaller GOLD, SILVER, BRONZE and HAPPY HOUR jackpots will be active every day. Happy hour jackpots will fall every day from 18:00 to 02:00, with values of €100 and €500. But beware. The €500 one-off jackpot will only fall on Fridays and Saturdays between 21:00 and midnight.
The total winnings for the days of the week are Monday €1100, Tuesday €1100, Wednesday €1100, Thursday €1100, Friday €1900, Saturday €2000 and Sunday €1500.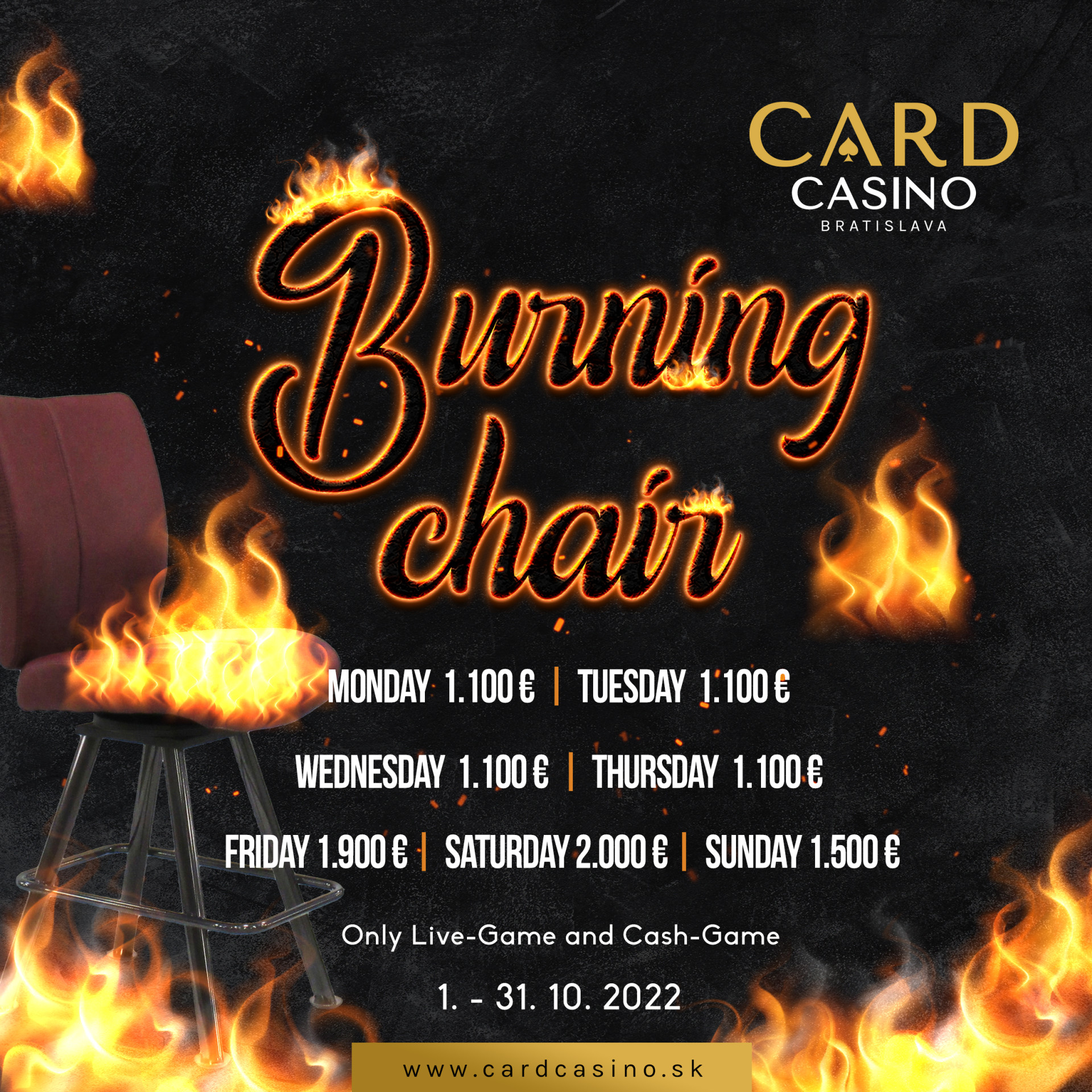 The prizes on the slots will be random and decided by a server with a random number generator. The prerequisite is active play at that moment on the slot machine and a piece of luck, which decides which "hot seat" will bring its owner a win.
Each winner of the €500 Jackpot will receive one ticket for the raffle to be held on 31.10.2022.
The live game will feature a similar competition to the slots, from 18:00 to 01:00. and on Saturday from 18:00 to 02:00. A draw will be held every hour for the position on the gaming table that wins €100 in Lucky Chips. The table number will be drawn first, then players will receive their cards at the table. One of them will hide the €100 prize.
On Friday, Saturday and Sunday, the single table prize draw will change from €100 per guest to €500 per table!
During the month of October, LIVE GAME players can look forward to a total prize pool of almost €28,000 in the Burning Chair promotion!
Progressive players will also win in a similar way in the Cash Game. Just two hours of active play and an instant win can be yours.
Every winner of €100 in Lucky Chips will also automatically receive a raffle ticket, as will every winner of the €500 Happy Hour jackpot. The main raffle draw will take place on October 31, 2022. The competition is for 5x cruise trips from Norwegian Cruise Line, for 2 people. But that's still not all! You can also look forward to the raffle draw on 28 and 29 October 2022, where
€3,333 worth of prizes are up for grabs
. In addition, visitors can look forward to a Halloween party
on Friday 28 October!
But we're not done yet. The tenth month of the year is also known around the world thanks to the October Fest, which we will also commemorate in Card Casino Bratislava. From 21 to 25 October, you can look forward to raffles themed around the Bavarian celebration of beer and life. Card Casino Bratislava, a place of great entertainment, gastronomic experiences in the Card Restaurant and especially a place of great prizes.