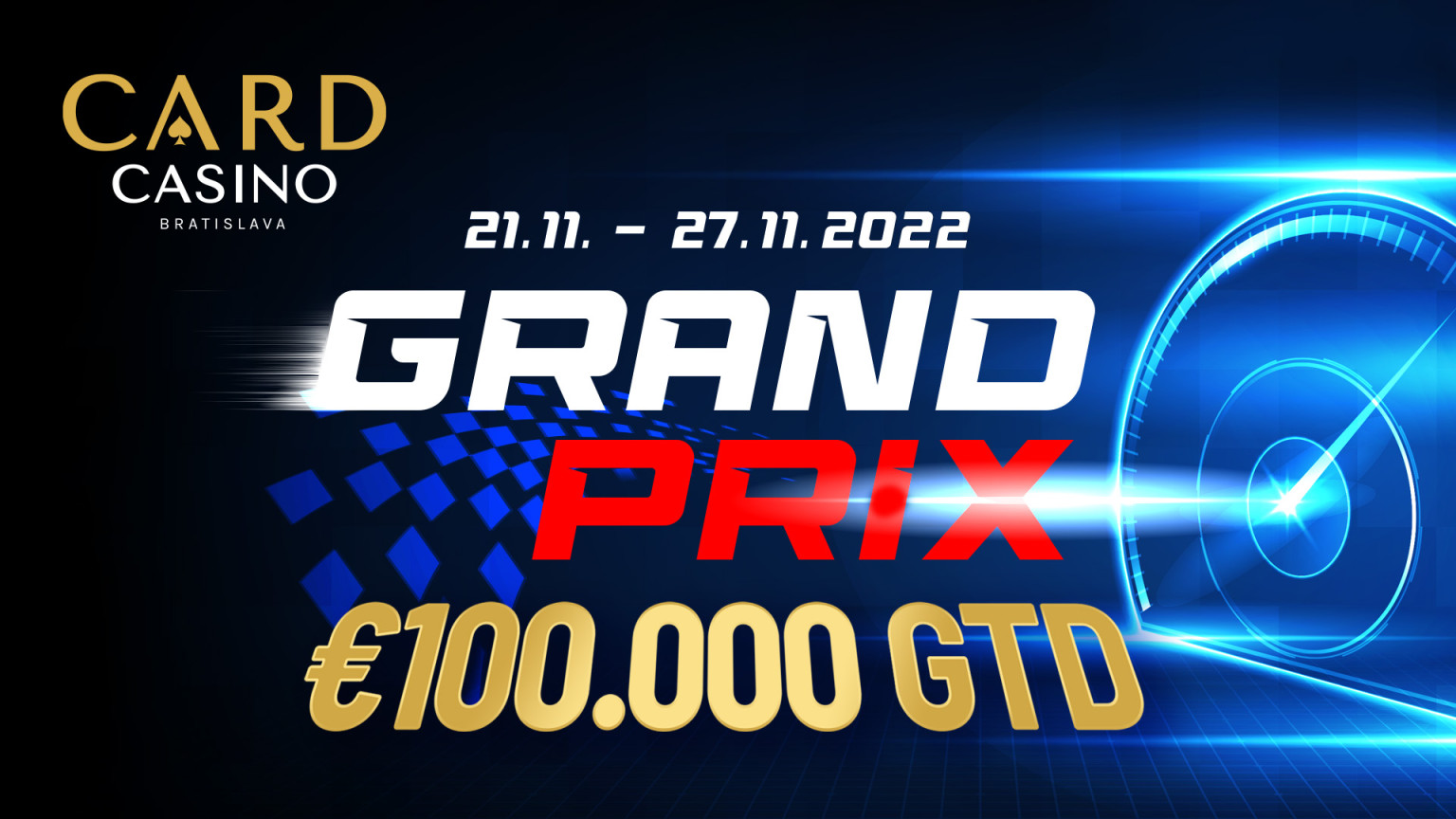 It's GRAND PRIX €100,000 GTD week. High Roller is also played
As it happens, Card Casino Bratislava alternates one great poker event with another from week to week. This week, Slovakia's biggest casino is hosting a Formula-themed tournament - the €100,000 GTD Grand Prix!
The inaugural edition of the Grand Prix series culminated with its Final Day in early October. With a buy-in of €100, 1,350 entries were collected. The winner of the tournament was Spaniard Miguel Angel Fernandez, who won more than €17 thousand. Who will emulate him?
The gates to the €100,000 Grand Prix kick off with today's qualifier - the €20 buy-in Super Satellit starts on Monday, November 21 at 19:00, with the casino guaranteeing a minimum of 20 €100 tickets into the tournament.
On Tuesday, November 22, PLO Night is scheduled with a buy-in of €50 and a €4,000 GTD.
The first day of play in the €100,000 GTD Grand Prix series is scheduled for Wednesday from 18:00, when DAY 1A will be played. Players will start with a stack of 50,000 chips and play 30-minute levels. Those who remain in the game after the end of the 15th level (approx. 3:00) will advance to the Final Day.
In addition, on Wednesday, November 23, there is also an opportunity for players to enter the tournament via another Satellite worth €20.
Three tournaments will be played on Thursday. The Satellit to High Roller is scheduled for 15:00. The buy-in for this is €50, with at least four players featuring in the exclusive tournament, which then kicks off at 18:00 and has a €20,000 GTD with a buy-in of €500. At the same time, the DAY 1B Main Event will also begin with a buy-in of €100 and a guarantee of €100,000.
Subsequently, the remaining flights will be played on DAY 1C (Friday from 18:00), DAY 1D (Saturday from 14:00), DAY 1E TURBO (Saturday from 20:00) and DAY 1F HYPERTURBO (Sunday from 11:00).
The FINAL DAY is scheduled for Sunday 27.11. from 15:00, where we will meet the new champion of the GRAND PRIX €100.000 GTD tournament.
If you don't make it to the big money on the final day, you can still enter the Big Stack tournament starting at 17:00 with a buy-in of €100 and a €10,000 GTD.
All information about what is happening in the casino can be found at www.cardcasino.sk or on the social networks of Card Casino Bratislava.