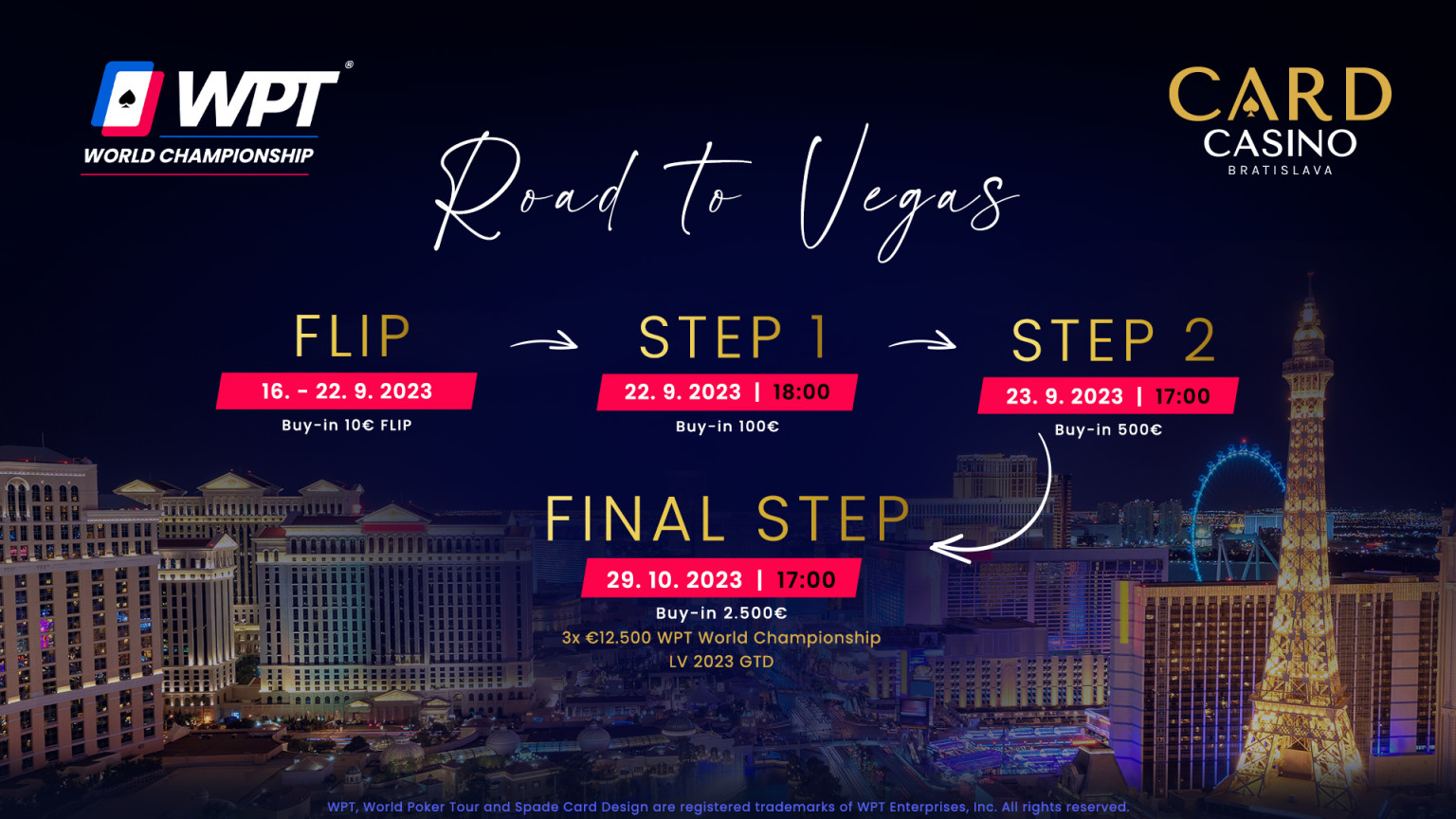 Road to Las Vegas for only 10€?! Live your big poker dream with Card Casino
There's probably not a poker player in the world who doesn't dream of one day playing in the mecca of poker - Las Vegas. A wish that often only a select few manage to fulfil. Now there's the perfect opportunity to turn it into a beautiful reality for everyone. How? Well, thanks to Card Casino Bratislava!
A trip from Bratislava to Las Vegas for 10€? It may sound like science fiction, but it's true.
Let's imagine a scheme how to do it.
From Monday, September 11 to Saturday, September 23, fast FLIP tournaments will be played at Card Casino Bratislava. At the moment when there are not 10 players, the dealer will deal cards to everyone and whoever wins a given hand will get a ticket to STEP 1 of the battle for Vegas, which is played on Friday, Sept. 22 at 18:00.
STEP 1 is played on the aforementioned Saturday and is open to all qualifiers and of course anyone who wants to play for Vegas. Every fifth player advances to STEP 2, which is played the following day.
Sunday belongs to STEP 2, where the buy-in is normally €500. Once again, every fifth will move on to the final STEP 3, which is played on Sunday 29/10.
This is the diagram of PHASE 1 (11th - 24th September)
PHASE 2 has the same conditions, just different dates. It is played from 24 September to 28 October 2023.
Again, first up are the Flip tournaments. All you need is €10, a little luck and a seat to STEP 1. This will take place on 27/10, the next day on 28/10 is STEP 2.
Everyone who advances from Phases 1 and 2 to STEP 3 will meet at the poker table on Sunday, October 29. The buy-in for the final stage is €2,500, and at the end of the day we will recognize at least three players who will receive a ticket worth €12,500 to the WPT World Championship LV 2023.
All information not only about Road to Vegas can be found at www.cardcasino.sk or directly at Card Casino Bratislava.